Pedati atau Gerobak Lembu Yang Dilukis Oleh Affandi di Tahun 1965
Mar 03, 2023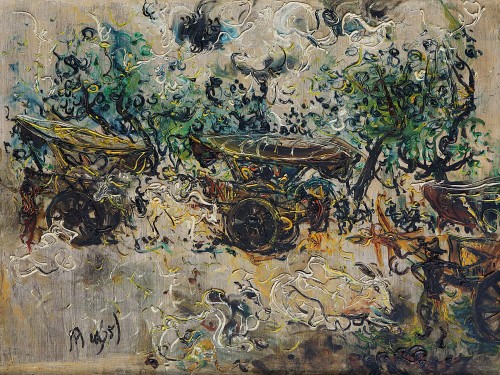 Pada awal 1950 beliau mendapat beasiswa ke India, lalu beasiswa tersebut dipergunakan untuk melukis keliling India. Momen tersebut membuat Affandi yakin akan teknik menggambar langsung dari tube tanpa kuas, sehingga sejak saat ini beliau meninggalkan kuas.
Seiring berjalannya waktu Affandi terus mempoles teknik tersebut hingga gaya tersebut menjadi milik beliau. Gerakan cat yang luwes dan spontan dengan warna-warna primer yang membuat karyanya penuh dengan luapan emosi dan juga menjadi ciri khas Affandi.
Melalui teknik Painting Directly from the Tube, Affandi dapat melukis dengan cepat. Namun untuk melukiskan suatu subjek beliau bisa berhari-hari atau berminggu-minggu untuk memperhatikan dan mencerna subjek atau objek tersebut tanpa menyentuh media kertas atau canvas.
Setelah mendapat semua esensi, dari bentuk, warna, atmosfere, gerakan, hingga detail-detail barulah beliau mulai melukis. Maka dari itu yang digambarkan Affandi adalah hal–hal yang menarik perhatiannya dan sering kali subjek yang mengambil perhatiannya adalah subjek kerakyatan
Seperti yang terlihat pada lukisan yang berjudul Gerobak Lembu yang dibuat pada tahun 1965. Gerobak yang ditarik oleh sapi juga disebut sebagai pedati merupakan kendaraan tradisional khas Indonesia yang digunakan sejak zaman kolonial
Pedati merupakan salah satu mode transportasi baik untuk barang atau manusia. Beberapa ciri khas dari pedati adalah pertama ditarik oleh sapi atau kerbau, walau kuda juga dapat menarik gerobak tetapi sapi atau kerbau lebih dapar diandalkan untuk menarik gerobak.
Hal tersebut dikarenakan jalanan yang masih berupa tanah amat mudah dilewati oleh sapi, terutama saat kondisi hujan yang membuat tanah menjadi lembek dan sangat susah di lewati oleh kuda. Ciri Khas ke-2 adalah pedati biasanya memiliki dua roda yang sangat besar pada bagian kiri dan kanan gerobak.
Seperti pada lukisan ini, Affandi menggambarkan tiga pedati yang sedang berbaris. Affandi menangkap kesibukan dari momen ini melalui aktivitas yang berbeda beda dari setiap pedati. Dimulai dari pedati yang berada di tengah, dimana pengendara tidak terlihat namun terlihat beberapa orang berpasangan sedang menuju pedati tersebut.
Pada bagian kiri terlihat pengendara pedati menghadap ke pedati seakan sedang menyiapkan pedatinya, lengkap dengan sapi yang sedang berbaring di sebelahnya. Pada bagian kanan pengendara pedati digambarkan dengan tangan kanan bersandar di pedati dan tangan kiri bertolak pinggang dengan kedua sapi berbaring di sebelah kirinya yang seakan menunggu giliran.
Ketiga pedati digambarkan dengan warna hitam, kuning, dan coklat. Dengan goresan-goresan spontan, detail-detail pada setiap pedati tidak terlewatkan. Pada bagian background terlihat pepohonan yang lebat dengan batang dan tangkai berwarna hitam serta dedaunan yang subur dengan warna hijau yang hampir memenuhi bagian atas kanvas.
Karya-karya Affandi pada tahun 60an selalu menjadi incaran para kolektor, hal tersebut dikarenakan pada tahun 60an merupakan tahun dimana beliau benar-benar matang dengan melukis dengan teknik Directly From the Tubenya.
Beliau juga semakin bersemangat setelah mendapat momentum pada tahun 1954, yang dimana gaya melukis beliau diakui di Venice Biennale yang mendapat julukan "New Expressionist". Sehingga karya yang dibuat pada tahun 1965 ini merupakan salah satu karya pada masa prima Affandi.