A Silver Lining Behind a Rejection: Affandi & His Self Portrait
Sep 05, 2023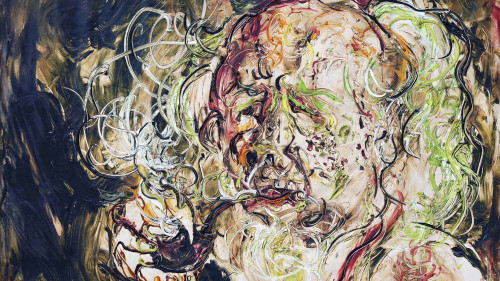 – Who would have thought that rejection could become a valuable artwork? Affandi was prompted to paint the theme of 'Self Portraits' by the rejection he experienced at an exhibition venue in Bandung. During that period, art venues only welcomed members of the Dutch community and a few Indonesian artists who painted in the accepted Mooi Indie style.
Until the end of his life, Affandi analyzed his physicality because of this rejection. He was obsessed with looking in the mirror, aware of every wrinkle and contour of his face. His self-portraits transformed into visual records of his identity during various life phases. Starting with his earliest Self-Portraits in the 1930s and continuing through to his creations in the late 1980s, they unveil a personal experience and the development of a man and artist over time.
"Self Portrait" presents a contemplative and emotive depiction of Affandi at the mature age of 70. Time served as a tool to gauge the constantly changing human spirit and has continually inspired Affandi to create self-portraits. This series of Self-Portraits presents his genuine self and portrays his imperfections without hiding any of them.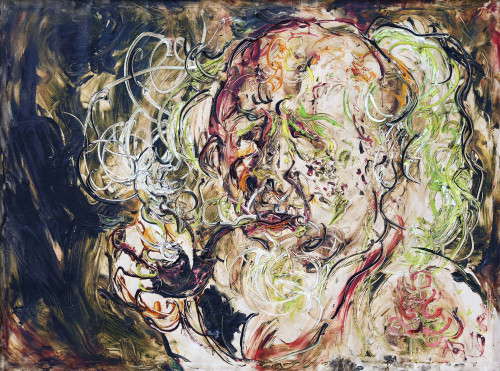 In this painting titled "Self Portrait & His Pipe", Affandi's face dominates the right side, while his hand tightly holds the pipe's head, extending towards the canvas's left side. The white strokes of paint resembling smoke from his pipe meld with his wispy white hair. A tense yet melancholic expression in this painting, complemented by darker color palette shades resonated in the background, twirling around his aged visage.
As a true expert in painting, Affandi has skillfully conveyed his emotions with complete and vivid expression within every piece of his art. We can observe this in his other magnificent work, 'Banyan Tree', where the maestro successfully conveys his emotions by symbolizing the banyan tree as a representation of protection, resilience, strength, and unity.
Above his signature, Affandi put his classic 'life force' symbol, composed of sun, hands, and feet, signifying his contentment with the painting's outcome. The pensive spirit of an impassioned, elderly man was the biggest highlight of "Self Portrait & His Pipe", showing transcending two-dimensional ideals of art and beauty to capture human existence in all its complexity. Executed in 1981, this work has been verified by Museum Affandi and is a golden opportunity to own this piece of artistic brilliance.
MASTERPIECE Live Auction September 1-24th, 2023 will close live at 02:15 PM Jakarta Time (GMT+7) and will accept live floor bids, telephone bids, written bids, and online through our website: https://auctions.masterpiece-auction.com/ . Register and bid now, and should you have any questions, feel free to reach one of our marketing specialists here.