Bird and Fruiting Palm: An Exquisite Masterpiece by Chen Wen Hsi
Sep 14, 2023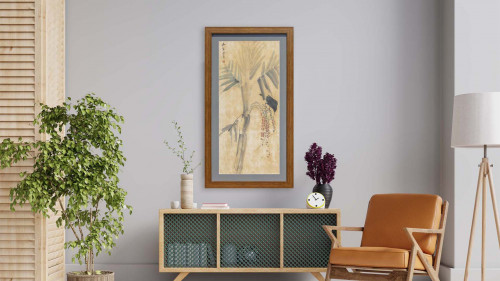 Chen Wen Hsi, born in 1906 in Guangdong, China, was not only an accomplished artist but also held roles as an academician and a gallerist. His artistic journey commenced when he pursued studies at the Shanghai College of Art in 1928. In 1948, Wen Hsi relocated to Singapore, where he established his residence and embraced the role of an art teacher at The Chinese High School. He wholeheartedly devoted his teaching expertise to the institution from 1949 to 1968. Simultaneously, he generously shared his profound artistic knowledge at the Nanyang Academy of Fine Arts, where he taught from 1951 to 1959. As a fervent art educator, he left an enduring impact on numerous early Chinese artists in Singapore.
Known for his avant-garde Chinese paintings, Chen Wen Hsi was proficient in both traditional Chinese ink painting and Western oil painting. He experimented with various styles ranging from Fauvism to Cubism with non-naturalistic and exuberant colors. This artistic style elevated the vibrant expression and exotic qualities associated with Southeast Asia.
Chen was a prolific painter, continuously creating throughout his lifetime. He showcased his works in numerous solo and group exhibitions, both in Singapore and across the globe. Wen Hsi's remarkable artistic talent gained widespread acclaim, and he received a multitude of awards and honors. These awards include the Public Service Star in 1964, a Gold Medal from the National Museum of History in Taiwan in 1980, the distinction of being the inaugural recipient of the ASEAN Cultural and Communication Award for exceptional artists in 1987, and an honorary doctorate bestowed upon him by the National University of Singapore.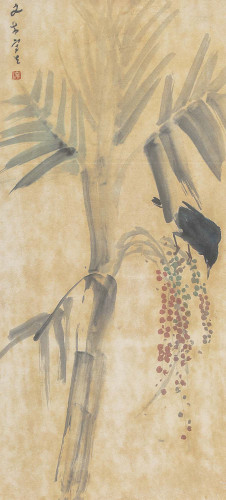 In this particular painting "Bird and Fruiting Palm", Chen Wen Hsi demonstrates his mastery of ink technique and nostalgia for the Chinese aesthetic. The painting showcases a bird and a fruiting palm, highlighting Chen's keen observation of nature and animals. Chen was known for his paintings of gibbons and animals developed from the Lingnan style, but "Bird and Fruiting Palm" represents a departure from his usual subject matter. Chen Wen Hsi's artwork reflects his deep connection to nature and his ability to blend traditional Chinese painting techniques with modern influences. His paintings capture the essence of the subjects he portrays, showcasing his skill and artistic vision.
The MASTERPIECE Live Auction is scheduled to occur between September 1st and September 24th, 2023, concluding with a final live session at 02:15 PM Jakarta Time (GMT+7). We are pleased to accept bids through various channels, including in-person bids, telephone bids, written bids, and online bids via our website: https://masterpiece.auction/
Feel free to register and submit your bids at your earliest convenience. Should you have any questions or require assistance, please don't hesitate to reach out to one of our dedicated marketing specialists.