From Newspaper Sketch Artist to A Palace Painter – Lee Man Fong
Sep 11, 2023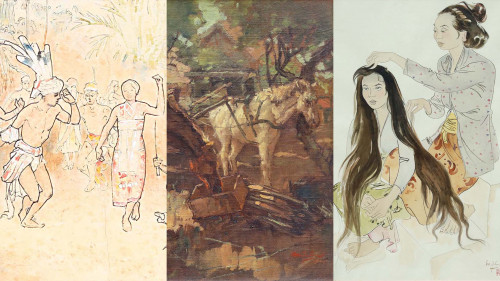 Starting as a newspaper sketch artist, Man Fong's journey culminated in his prestigious role as the official painter for the Indonesian presidential palace. His remarkable career firmly positioned him as one of the most renowned artists in Southeast Asia.
He successfully combined the Chinese and Western styles. The majority of his life was spent in Indonesia, where he crafted a distinct artistic style that harmoniously combined diverse influences to form his serene yet fervent artistic perspective. He frequently used Chinese brushwork techniques while applying Western visual conventions to his composition. A prominent painter and curator, his innovative approach introduced the Nanyang style to 20th-century Indonesia.
He was the first non-Dutch artist to be invited to participate in an exhibition organized by the Dutch East Indies Association–which remarked on his brilliance and greatness. As his artistic reputation continued to rise, he was granted a Malino scholarship endorsed by Dutch Viceroy Hubertus van Mook, whom Lee had previously portrayed, allowing him to study in the Netherlands for three years.
Lee Man Fong's body of work reflects his deep connection to the natural environment, celebrating the wildlife and countryside of Southeast Asia. As a Chinese artist, his heritage played a big role in influencing his aesthetics and creative principles, with the animals depicted in his paintings reflecting his self-identity. The choice of wildlife also provided a sense of familiarity in a foreign setting, grounding Lee Man Fong's oeuvre in images that referenced his childhood in China.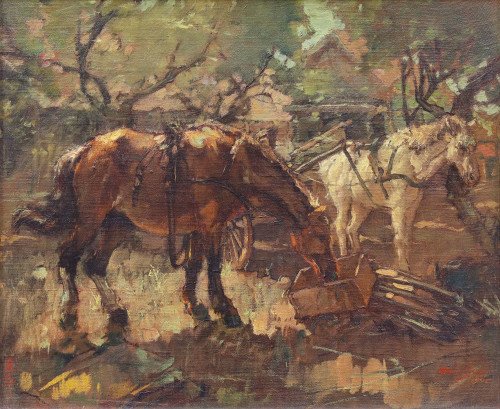 Horses have been admired for their strength, beauty, and grace in Chinese tradition. Horses hold significant symbolism in the country's history of creative expression. They embody philosophies highly treasured among Chinese scholars and artists. Therefore, Lee Man Fong's depiction of horses in this painting offers insight into the principles he deemed important.
Executed in 1940, this painting may be perceived as a naturalistic painting, considering Lee Man Fong's role as an immigrant living in Indonesia, the animals may represent a deeper and more complex part of the artist's psyche. The painting showcases his skill in observing wildlife while also celebrating his cultural paradigms and Asian values.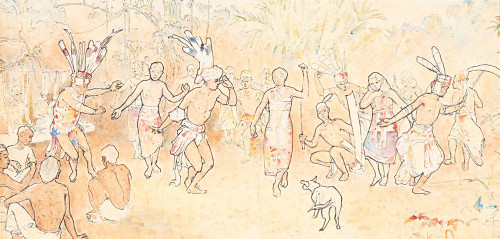 We can also observe this in another captivating work titled "Dance of The Sea-Dayak" a watercolor on paper piece measuring 35 x 68 cm. This painting portrays a lively scene of Dayak individuals engaging in traditional dance. The Dayak people, native to Borneo, are renowned for their elaborate tattoos, musical traditions, and dance forms. In Lee Man Fong's artwork, he skillfully captures the dynamic and energetic essence of the Dayak dance.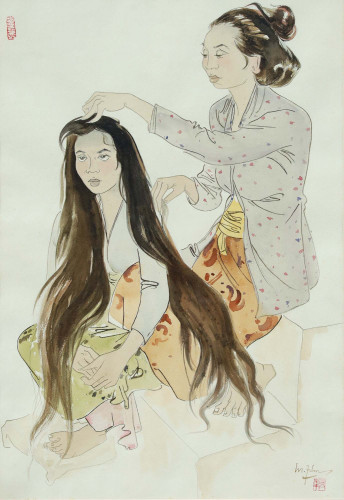 Don't overlook his other remarkable artwork, a 68 x 46 cm watercolor on paper titled "Mencari Kutu" by Lee Man Fong. In this painting, Lee Man Fong skillfully portrays two women sitting together, with one woman meticulously inspecting the other's hair for fleas. This artwork vividly captures the everyday life of the Indonesian people, showcasing the deep connection and intimacy between these two women. It stands as a beautiful testament to Lee Man Fong's talent in depicting the ordinary lives of Indonesians in his art.
The MASTERPIECE Live Auction will take place from September 1st to 24th, 2023, with a final live session at 02:15 PM Jakarta Time (GMT+7). We welcome live floor bids, telephone bids, written bids, as well as online bids via our website: https://auctions.masterpiece-auction.com/
Don't hesitate to register and place your bids now. If you have any inquiries, please don't hesitate to contact one of our marketing specialists.