Sunaryo's Palette and The Dancers
Sep 18, 2023
Sunaryo's Palette and The Dancers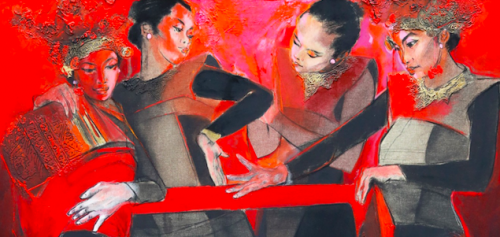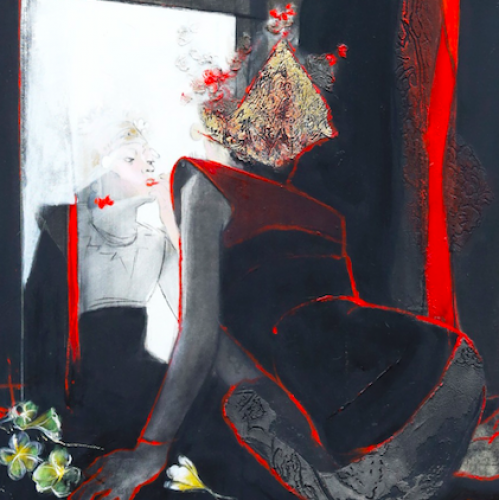 Sunaryo was born in Banyumas on May 15, 1943. Upon completing his studies at the Sculpture Art Studio within the Department of Fine Arts, Faculty of Fine Arts and Design at ITB in Bandung, he embarked on his artistic career in the late 1960s.
In 1975, Sunaryo pursued advanced studies in Carrara, Italy, immersing himself in the mastery of marble sculpting techniques. He showcased his works in various solo and group exhibitions both in Indonesia and on the international stage. His artistic creations fetched considerable prices at auctions, achieving record-breaking figures almost every year.
Sunaryo's artistic prowess garnered recognition through multiple appointments as an art director for prestigious events. Notably, he took on the role of art director for the Indonesian pavilion at the 1985 World Expo in Tsukuba, Japan, and in 1986 in Vancouver, Canada.
Emerging in a later era than Ahmad Sadali and Mochtar Apin, Sunaryo consistently upheld a profound commitment to infusing his abstract and semi-abstract artworks with contemplations on ethics, morality, and aesthetics.
Sunaryo is a painter skilled in depicting dancers as the subjects of his paintings, a theme that appeals to many art collectors and connoisseurs. His ability to portray dancers in a beautiful, graceful manner captivates anyone who views his work. In his series of paintings featuring dancers, Sunaryo symbolically conveyed the feminine essence through diverse elements, such as the presence of red lipstick adorning the dancers' faces.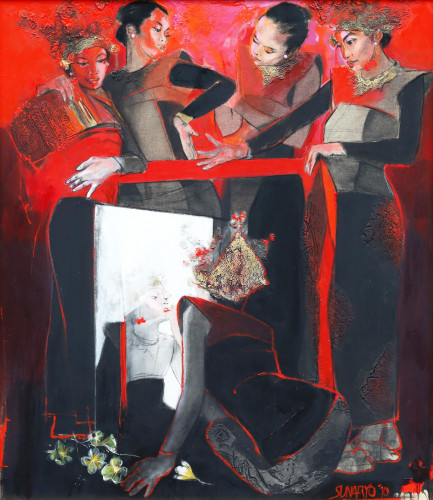 In the artwork currently presented, "Persiapan Menari", Sunaryo expertly employed shades of black, red, white, and a little touch of purple on canvas. Sunaryo pays meticulous attention to the clothing, postures, and facial expressions of the dancers, offering intricate details.
Sunaryo captures the essence of five dancers as they prepare to perform. One of the dancers sits elegantly in front of a mirror, delicately applying makeup to her face. Meanwhile, the other four dancers, standing together, assist each other in donning their dance attire. Sunaryo masterfully portrays the solidarity and teamwork among the dancers in this remarkable painting.
This stylistic approach invites interpretation and encourages viewers to engage with the piece on both visual and emotional levels. Executed in 2010 on a 140 by 120 centimeters canvas, this present lot by Sunaryo features five dancers in the midst of preparing for their performance, one of the most sought-after series of Sunaryo's works.
The MASTERPIECE Live Auction will take place from September 1st to 24th, 2023, with a final live session at 02:15 PM Jakarta Time (GMT+7). We welcome live floor bids, telephone bids, written bids, as well as online bids via our website: https://auctions.masterpiece-auction.com/
Don't hesitate to register and place your bids now. If you have any inquiries, please don't hesitate to contact one of our marketing specialists.